ULTRASONIC™ PORTABLE WASHING MACHINE
Shipping fee
Cash on delivery
7 days return
96% high praise
Estimated arrival time 7~10 working days
Buy now
ULTRASONIC™ PORTABLE WASHING MACHINE
Ultrasonic provides you with clean clothes anytime and anywhere.
A small and compact washing machine to clean the dishes after dinner or cooking. It sits comfortably on countertops or tabletops that require less space.
✅ Bring it with you and use it anywhere, anytime
✅ Worry-free auto ultra powerful cleaning process
✅ Ultrasonic Waves Destroy Dirt and Kill 99% bacteria
✅ Dual-direction turbo rotation imitates hand-washing and protects your clothing
✅ Saves time and energy for you
Four-stage cycle cleaning, high-frequency vibration cavitation and high-pressure waves, accelerate the dispersion and emulsification and peeling of liquids and stains to achieve cleanliness.

Widely Used
This mini dishwasher is light and compact for easy carrying; suitable for family, business travel, travel, camping. You can send your lover an ultrasonic dishwasher.
Features:

A. It takes less time for a complete washing, which is 30 minutes.
B. It consumes less power and its power automatically off after a 30-minute operation.
C. It is equipped with diversified modes.

Working Principle
The acoustic energy carried by the supervibration wave is a cavitation phenomenon in the liquid, which will generate a large number of pressure explosive microscale bubbles. The air bubbles burst rapidly to generate shock waves, and the surface of the dishes is constantly brushed. These gaps can cause stubborn dirt to crack, emulsify and peel. As a result, cleaning is achieved.
Life is quiet and beautiful, and we made its level of noise only 50DB.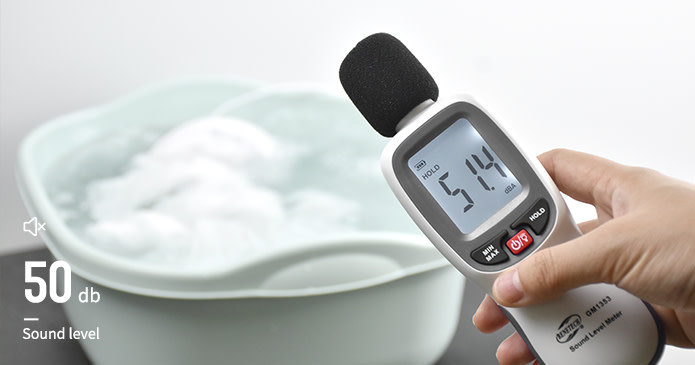 Compared with ordinary washing machines, Ultrasonic consumes 1/10 of power, less than 2% of water, saves resources and takes care of the environment.
Portable ultrasonic washing machines can not only wash a few clothes, clothes, towels, underwear, socks, T-shirts, toys or other small loads and deli laundry rooms, but also clean jewelry, glasses, fruits, vegetables and tea sets.


USB POWER SUPPLY
Our Mini Dishwasher is recharged via USB and you can connect your mobile device, free of installation, convenient, waterproof, cleaner cleaning. It features bubble spray brush, 2D flow, immersion cleaning, ultrasonic wave.

FAQ
Does the washing machine vibrate too much? Will it shake during use?
No, It's very stable!
How long does it take to wash?
30 minutes. The washing machine will automatically run for 30 minutes according to the washing process.
How much laundry can I wash at one time?
We recommend that the items for washing is less than 4 pounds. Ultrasonic is not suitable for washing the heavy items such as jeans and bedding.
Does this work in a hotel sink?
Yes, It's perfect for any type of Sink.
Is this safe? Any issue with the cable directly in the water seems dangerous.
Yes, its pretty safe there's a protective coating over the wiring.
Can Ultrasonic replace my washing machine?
For people who travel a lot and small families, Ultrasonic is the perfect washing machine replacement. It helps you save water, space and energy - especially if you don't have a lot of clothing.
Dear friend, the portable washing machine is easy to clean since it is just one button to control. After connecting to the power supply, touch the button for two seconds to turn it on, and it will automatically stop after finishing washing.
Specifications:

Input voltage - DC 5V.

Input current - 3A.

Power supply method - USB.

Rated voltage - DC 10V.

Forward and reverse loading - 200 rpm.

Forward rotation time - 15 seconds, reverse loading time: 15 seconds.

Turbo working time - 5 minutes switch.